Top People

Men's Singles Champion
Barry Griffiths (A)
Women's Singles Champion
Shelley Palmer (A)
Ranking List
Men
Barry Griffiths (A)
James Morris (NL)
Malcolm Temperley (NS)
Peter Jackson (A)
Richard Lee (A)
Geoff Rau (FR)
Wayne Adamson (FR)
Graham Lassen (A)
Alan Shewan (H)
Malcolm Darroch (FR)
Women
Christine Lee (A)
Shelley Palmer (A)
Jan Morris (C)
Angela Brackenridge (A)
Kadia Rice (BP)
Ann Gyongyos (W)
Kristen Phillips (HV)
Yvonne Eyre (O)
Christine Prendergast (A)
Pam Shadbolt (C)
Under 18 Boys
Barry Griffiths (A)
Peter Jackson (A)
Alan Shewan (H)
Alan Pedley (FR)
Chris Clegg (HV)
Raymond Gin (A)
Guy Palmer (A)
Robert Kerr (W)
Tony Radford (K)
Willie Shaw (HV)
Under 18 Girls
Kadia Rice (BP)
Wendy Cuthbert (HV)
Jane Bevan (H)
Toni Pairaudeau (H)
Annmaree Hogarth (A)
Eileen Hoete (A)
Catherine Fogarty (O)
Monigue Van der Aa (C)
Sandra Mayes (C)
Gina Stapleton (A)
Under 16 Boys
Robert Kerr (W)
Tony Radford (K)
Willie Shaw (HV)
Shane Cummins (FR)
Nigel Kruse (A)
Gary Traill (NL)
Grant McCarroll (C)
Keith Aldersley (W)
Don Shewan (H)
Sean Ryan (A)
Under 16 Girls
Eileen Hoete (A)
Sandra Mayes (C)
Yvonne Cuthbert (HV)
Tanya McAvinue (MN)
Rachel Lee (HV)
Jennifer Lawn (O)
Helen Beumelburg (C)
Delwyn Houlihan (NL)
Sharon Coad (A)
Angela White (HV)
Executive Committee
R J Menchi (Chair), J Lelliott (Dep Chair), M G Allardyce, D A Cook, P V Field, T J Fogarty, D R Jackson, K L Pointon (deceased 4/7/82), R M Radford (app 15/7/82), A J Richards, L R Roughton, K C Wilkinson (Secretary), R J Lynn (Treasurer).
Three Oceania Titles Retained, Four Years Later

It's not unusual in an international tournament for a player to retain a title won the previous year; less common if the event is held every second year. But every four years?

At the inaugural Oceania Championships in 1978, played in New Zealand, the singles events were won by Paul Pinkewich and Christine Little, both of Australia. A four year cycle was proposed for future championships and the second Oceania's were scheduled for September, 1982 in Sydney.

A huge testament to the international staying power of Pinkewich and Little is that they both retained their 1978 titles in 1982. And in the case of Christine Little it was far from over – she won the mixed doubles at the next championships in 1986 (with Barry Griffiths) and the next after that (in 1988), with Peter Jackson.

Also showing remarkable stamina was NZ's Jan Morris. She was women's singles runner-up to Little in 1978 and again in 1982. She won the 1978 women's doubles with Angela Brackenridge and retained it in 1982, partnered by the 1978 and 1982 singles winner.

In a point of clarification for future historians it needs to be confirmed that, while the 1978 women's champion was Christine Little of Australia, and the 1982 champion was Christine Lee of New Zealand, both are the same person. In 1979 she married former NZ Champion Richard Lee and moved to New Zealand. In fact, to add further confusion, of the seven NZ players at the 1982 Championships, four are named either Lee or Morris. James and Jan Morris (unrelated) played together in the mixed doubles and reached the final, beating fellow-New Zealanders Christine Lee and Barry Griffiths in the semi-final before losing to Australia's Pinkewich and Nadia Bisiach.

Richard Lee (married to Christine) reached the men's doubles final with James Morris. There they lost to Australia's Glenn Tepper and former Swede Tommy Danielsson.

New Zealand was off the pace in the men's singles.

A Win and a Loss in the Teams

The New Zealand women won the teams event - not surprising considering their two players (Jan Morris and Christine Lee) were destined to be the women's singles finalists and the women's doubles champions. The men lost the final to Australia but two impressive match results in that contest were among the highlights of the entire Championships. Showing devastating form (that was to elude him in the individual singles) Barry Griffiths beat both Paul Pinkewich and Gary Haberl to give NZ their only successes in the 2-7 loss. The men's competition was for three player teams with NZ represented by James Morris, Barry Griffiths and, selected after his good showing at the 1981 NZ Games, Malcolm Temperley.

Richard Lee played the individual events only, as did Angela Brackenridge.

Five Island nations joined New Zealand and Australia at the championships.

The New Zealand contingent was managed by David Jackson.

Australian Open Followed Oceanias

With the Australian Open also held in Sydney and scheduled immediately after the Oceanias, the New Zealand players (except Angela Brackenridge) stayed on to compete in that tournament. The Championships were strengthened, particularly in the women's events, by a contingent from Korea.

Two New Zealand pairs (Richard Lee and James Morris; Barry Griffiths and Christine Lee) reached the semi-finals in the men's and mixed doubles respectively.
---
Commonwealth Championships

The long-term lead up to this event was an administration nightmare. The Championships were meant to be held in 1981 immediately prior to the World Championships (the usual scheduling) but security concerns in the host city (Belfast, Northern Ireland) necessitated a postponement and a change of venue. There was doubt over whether we would even attend the 1981 World Championships in Yugoslavia without the Commonwealths leading into it but the trip was made, albeit at extra cost to the players. A New Zealand entry to the 1982 Commonwealth Championships (now being held in early February in Bombay, India) was made more viable by the scheduling of the Asian Championships, to which New Zealand was again invited, for late January in Jakarta, Indonesia. With one event following the other only a single trip to Asia was required. But this highly convenient juxtaposition was spoilt when a general election in Indonesia forced the postponement of the Asian Championships till May. We received this news by chance just one month before our planned departure, with official advice coming even later.

We could not afford to make separate trips to each event so the Asian Championships immediately came off the agenda. Regarding the Commonwealths, again NZTTA had to decide whether it was worth travelling to India for just one event. A decision had to be made quickly and it was decided to still make the trip.

Our cause at the tournament was not helped by the unavailability of Christine Lee, Richard Lee and Malcolm Temperley, and the late withdrawal of James Morris and Debbie Stratford (nee Looms). Barry Griffiths wasn't at his best although he had a good win over Gary Haberl in the team contest against Australia. Overall, our results were disappointing compared to our last outing at this event (way back in 1977) when the men finished 5th and the women 6th. This year our men only managed 9th while the women slipped to 7th.

The women beat Pakistan and Sri Lanka, the men beat Kenya and Sri Lanka.

There were no notable successes for New Zealand in the individual events.

Nelson Tizard managed the team of Jan Morris, Kadia Rice, Barry Griffiths,

Graham Lassen and (for the first time in NZ colours) Geoff Rau (pictured).

Warm-up contests were played in Singapore on the way to Bombay.
---
NZ Championships – Griffiths/Jackson Era Begins

After an early season lapse following his eight months in Sweden, a not uncommon phenomenon after intensive training, Barry Griffiths played his best table tennis yet at the NZ Championships in Wanganui. And with Peter Jackson rocketing into the top four from a 1981 ranking of 10, the performance of the two 18 year olds signaled the beginning of a new era.

For starters they ended the domination of the men's doubles by Richard Lee and James Morris, who had won the event eight times in the last nine years. And the two teenagers, seeded 3rd and 4th, then met in the singles final. Griffiths' semi-final win over top seed and title-holder James Morris was decisive (17-21, 21-14, 21-9, 21-9), but Jackson's journey to the final included a tempestuous semi-final win over 2nd seed Malcolm Temperley. Temperley was totally outplayed in the first two games, losing 8-21 and 9-21. But he thundered back to win the next two 21-19, 21-15 and led 18-16 in the fifth. When Jackson lost the next point to make it 19-16 he threw his bat on the floor, breaking the handle. In a cruel twist of fate, the break in play (legitimately allowed to replace a damaged bat) disrupted Temperley's concentration more than Jackson's and the teenager came back to win the final game 23-21.

Temperley, still playing very good table tennis and about to represent New Zealand at the Oceania Championships, had beaten Richard Lee in the quarter-finals.

Earlier Griffiths had faced Australia's Wayne Heginbotham with some trepidation but won in four games.

The Griffiths/Jackson match was not the most spectacular men's final ever, played very tightly by two players who by now were thoroughly familiar with each other's game. Griffiths was the decisive winner, losing the first game narrowly but dominating the next three to become the first junior to win the NZ men's singles since Richard Lee in 1971.

As well as winning the men's singles and doubles (with Jackson) he completed a superb tournament by also winning the mixed doubles with Angela Brackenridge and all three junior titles. He was ranked No 1 and named Player of the Year.

Top Two Women's Seeds Also Beaten

To confound the selectors, the two women selected to represent NZ at the Oceania Championships (and who emerged from that event as the top two players, outclassing the Australians) were both beaten in the singles semi-finals. Shelley Palmer (seeded 3rd) beat top seed and title-holder Jan Morris while Angela Brackenridge, somewhat surprisingly seeded only 6th, eliminated the in-form Christine Lee after earlier having beaten fourth seed Kadia Rice.

The Brackenridge/Palmer final was a grueling and tense struggle won eventually by Palmer 26-24, 14-21, 21-19, 28-26. It was her second NZ singles title.

It was difficult not to feel sorry for Angela Brackenridge. She had bravely hung in there in the final game, saving six match points before finally succumbing. It was her third appearance in the national singles final and third loss. Despite winning four NZ women's doubles and three mixed doubles titles, she was destined never to win the singles, and never to win the North Island singles either. Her career had shown extraordinary promise. She won the hearts of all at the 1971 nationals as the diminutive curly-headed figure playing in the Northland senior women's team, 12 years old and looking much younger. At the same tournament she had won the under 16 girls singles and earlier had won the North Island under 18 doubles with Anne Stonestreet. Her international experience began with the 1975 Commonwealth Championships when aged 16, and she was selected officially for NZ in 1976. For the 1977 NZ Championships she was top seed.

Another Promising Career Launched



Another young player destined for big things entered the national records in 1982. 11 year old Maxine Goldie (pictured) won the under 12 girls singles, setting a precedent as the first player from West Coast ever to win a NZ title. She had also won the South Island under 12 singles and doubles earlier in the year and would go on to win a total of six NZ junior singles titles, three women's doubles titles and would earn selection for the World Championships. But sadly, like Angela Brackenridge, she was never to win the NZ singles, playing her peak years in the shadow of Chinese star Li Chunli. She managed one North Island singles title, but had to wait until 1999 for that, by which time she was aged 28.

Also featured among the 1982 Under 12 prize-winners was girls doubles champion Susan Cuthbert, the third member of a talented family whose older sisters Wendy and Yvonne had been winning national junior titles since 1978. Susan would continue the tradition until 1986.

New Age-Category Launched

Under 21 singles events were played for the first time and were restricted to players who had moved out of junior ranks. The inaugural winners were Simeon Cairns and Kristen Phillips.

By 1988 doubles had been added and the category had been opened to junior players.
---
Alf Harding Retires From NZTTA
Chair

Alf Harding stepped down after a lengthy term on NZTTA's Management Committee. He was first elected in 1957 and has chaired the national body since 1970. Former Deputy Chair Ron Menchi was elected to replace him.

A highlight of Alf's term as chairman was his heavy involvement in the complex preparatory arrangements for the 1972 visit by the People Republic of China delegation. He escorted the party throughout their tour of New Zealand.

Alf was also well-known as a sports journalist, writing prolifically for Wellington's Evening Post on a range of codes including table tennis. He continued this well beyond his retirement and by the time his detailed and highly opinionated pieces had finally faded away (in the early 1990s) he had been writing for the same newspaper for more than 65 years.
---
Oceania World Cup Qualifier

The World Cup, not to be confused with the World Championships, was introduced in 1980 as an elite event restricted to 16 players, with all six continental federations represented by at least one. It is a luxury event for the Oceania representatives as it gives them a rare chance to compete with several of the world's top ten players.

Initially, the reigning Oceania Champion automatically gained the right to represent the Oceania region at this event. But with the first two Oceania Championships held four years apart and the World Cup held annually, the international body (ITTF) urged us to begin conducting a regional qualifying tournament. A men's qualifying tournament was held this year.

It took place in Upper Hutt, was sponsored by Norwich Union Insurance and received generous publicity. Two selected Australians (Paul Pinkewich and Bob Tuckett) and two New Zealanders (Barry Griffiths and James Morris) played a full round robin. The tournament was recorded on 3 April for later transmission on television.

Pinkewich went through unbeaten, winning the right to represent Oceania in the 1982 World Cup later in the year. Aged 31 but still remarkably fit, he is by far the most experienced international player in Australasia, having competed in eight World Championships. Fellow-Australian Bob Tuckett has played in five, James Morris four and 18 year old Barry Griffiths just one.

As always, Pinkewich's solid defensive game with its subtle variations was his main tool-in-trade. It's a game Bob Tuckett has always struggled against and this time was no different. Both New Zealanders managed to penetrate Pinkewich's defensive wall to gain a narrow win in one game but they never looked like beating him. Similarly against Tuckett the New Zealanders ran close in one game but never dominated the match.

Nonetheless there were some fine rallies and the crowd was entertained. Griffiths won a hard-hitting three-game match to beat Morris for third place.
---
New North Island Champion

Malcolm Temperley confirmed that he was capable of beating anybody on his day by winning the North Island men's singles. Ranked No 3 in both 1981 and 1982 a big win for him has been on the cards for some time. But he was made to work for it, having to come back from two games down against Barry Griffiths in the semi-final and losing the first game of the final to James Morris before winning 17-21, 21-12, 21-16, 21-16.

The championships were an opportunity for Auckland TTA to showcase their newly refurbished stadium. Since the disastrous fire of 1981 a new cafeteria and glassed-in lounge overlooking the playing area have been added. An opening ceremony for the new facilities was incorporated into the championships.
---
Another English Coach

Although the English Association was not able to release Peter Hirst for a fourth annual tour of New Zealand they sent a worthy replacement in 28 year old David Fairholm. A former county champion with coaching experience in several European countries, David spent six weeks in New Zealand early in the season training coaches and working with our top senior and junior players.

As Peter Hirst and others have continually stressed, David told us that we would always languish at about the same world level until we employed a full-time director of coaching. He also observed that our players are not well trained in the art of spotting opportunities to attack. He felt we were either missing chances to create openings or attacking at the wrong time.

He noted that New Zealand is well supplied with playing facilities of a high standard.
---
New Dates Proposed for Coaching Schools

It was decided at the Annual Meeting to redesign the early season national coaching programme and in general take stock of the overall coaching situation. It was agreed there would be no visit by an overseas coach in 1983 and that we would move the national training camps, both senior and junior, to January instead of April/May as in the past. The January date would give trainees time to assimilate new skills before the competitive season started and, in the case of the juniors, avoid a clash with the Australian Junior Championships which have now moved to May.

January training for the seniors would be beneficial to squad members selected for the Commonwealth and World Championships in April and May, in addition to their pre-event training.
---
Sudden Death of Top Umpire



A man regarded as New Zealand's top umpire, Keith Pointon, tragically died at the age of 60 while actively engaged in table tennis business. He had been appointed referee for the NZ Championships in Wanganui and was visiting that city to inspect the playing facilities when he suffered a fatal heart attack.
Keith had been umpiring at all levels since 1955 and was one of the first in New Zealand to attain international umpire status.

He was still extraordinarily active at the time of his death. He had been a member of NZTTA's Executive Committee for 12 years and managed NZ teams to the World Championships in 1979 and 1981.

He achieved success as a player and was the current NZ Over 55 men's singles title-holder.
---
Tough Challenge for Juniors in Australia

It was rebuilding time for the NZ junior team when preparations were made for the Australian Junior Championships in Adelaide in May. With juniors Kadia Rice and Barry Griffiths now representing NZ at senior level, the junior team now had to learn to manage without them and also without Peter Jackson, another senior high-flyer.

The new team was Wendy Cuthbert, Annmaree Hogarth, Toni Pairaudeau, Jane Bevan, Guy Palmer, Chris Clegg, Raymond Gin and Robert Kerr. Only Wendy Cuthbert had played for NZ before.

Both teams finished fourth. There were some good wins in the individual events. Toni Pairaudeau and Jane Bevan reached the girls doubles semi-final, Raymond Gin beat No 4 seed Matthew Walker and Toni Pairaudeau eliminated the No 6 seed in the girls singles.



Nelson Tizard (pictured) managed the team with Paul Escott the coach.
---
Popular Tournament in New Plymouth

When the North Taranaki Association called for entries in a tournament restricted to school students under the age of 17 who did not play interclub, they were pleasantly surprised (and somewhat overwhelmed) when more than 100 entries flooded in.

The NZTTA Annual Report commented that this is almost certainly indicative of the situation throughout the country. "There is no dearth of youngsters willing to play table tennis if only we had the organisers available to control the activities."
---
Barry Wynks, QSM

A popular Manawatu player, Barry Wynks (30), was honoured with a QSM award for his services to the community and to Table Tennis.

Despite an artificial leg and a severely shortened right arm, Barry has held his own among fully able players since he was a junior, has won multiple provincial titles and has been an automatic choice for the Manawatu representative team for over a decade. In 1972 and 1973 he reached the last 32 in the NZ Championships men's singles.

His wife Linda also has a string of Manawatu titles to her name.

Barry is an active administrator and a nationally respected coach. And he was destined for even greater success as a lawn bowler, participating in the 2002 Manchester Commonwealth Games triples for bowlers with a physical disability.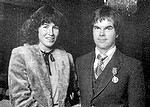 ---